Abusing Testing OpenAI's ChatGPT by challenging it to write an annual review for an antisocial developer, a Twitter resignation letter, a letter apologizing for holiday party behaviour and a job description for one of Santa's elves.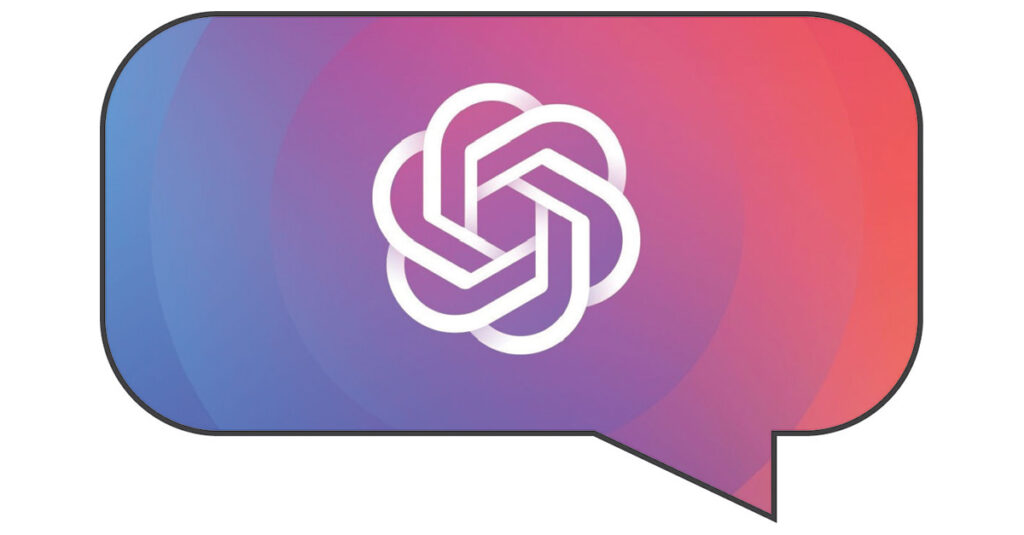 Introduction
Welcome to the future, where AI writes your annual reviews! Well, hopefully only a first draft.
Open AI's ChatGTP is a chatbot that understands natural language and can respond to questions, comments and other interactions.
To show how this works, we'll ask ChatGTP to create some corporate documents to help, er, streamline our workload.
Accessing ChatGTP
To access ChatGTP, sign up for an OpenAI account:
https://chat.openai.com/auth/login
ChatGTP currently is in a Free Research Preview, so there are no fees to access it at the moment. During busy periods you might get a "The model is currently overloaded with other requests" message and need to try again later.
How it works
Once you create an account, login, and open https://chat.openai.com/chat, you'll be presented with an empty chat screen.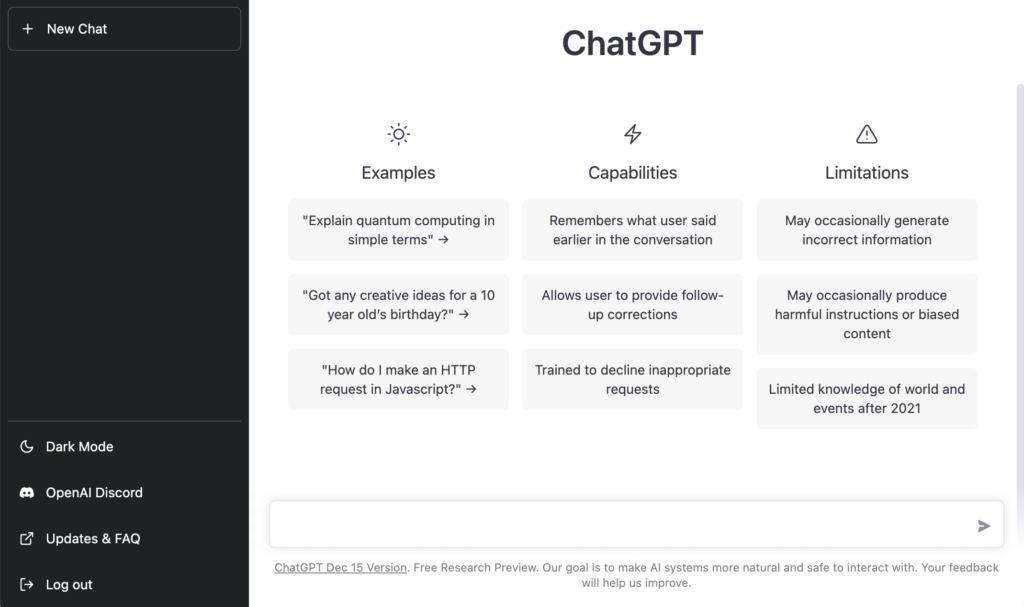 To start the chat, enter a question or request into the text box at the bottom. The screen will refresh and display the response in the middle of the page. The text box will remain, and overall, the interaction is similar to other chat clients.
Demos
These demos will focus less on the chat element – no back and forth dialogue – and instead we'll be requesting a document from ChatGTP. Similar to other AI interactions or prompts, the more specific you get, the more detailed the response should be. Here's what we got back from our intial requests:
Write an Annual Review For a Developer
Request: Write an annual review for a developer with great technical skills but no soft skills
Dear [Developer],

I am writing to provide you with an annual review for the past year of your work with our team. Overall, it has been a pleasure to work with you and to see your technical skills continue to grow and improve. Your contributions to the team have been invaluable, and you have consistently demonstrated a strong understanding of your area of expertise.

However, it is also important to address areas where there is room for improvement. Specifically, I have noticed that your soft skills could use some development. This includes things like communication, teamwork, and problem-solving in a group setting. While your technical skills are strong, it is crucial to also have strong soft skills in order to be a well-rounded team member.

I would recommend taking some time to focus on developing these skills in the coming year. This could include things like participating in team-building exercises, seeking out opportunities for collaboration with your coworkers, and working on your communication skills by actively listening to others and expressing your ideas clearly.

Overall, I have confidence that with a continued focus on both your technical and soft skills, you will continue to be a valuable member of our team. Please let me know if you have any questions or would like to discuss this further.

Best regards,
[Your Name]
Write a resignation letter from Twitter
Warning
Be careful asking ChatGPT about anything that is current or recent.
If you do, you will likely get the message:
"My training data only includes information up until 2021, so I am unable to provide information about events that have happened after that time.".
With that in mind, ChatGTP doesn't know that Elon Musk is the owner of Twitter, thus the specific request and the answer that does not mention his leadership role at Twitter.
Request: Write an angry resignation letter from Twitter and blame Elon Musk
Dear Twitter,

I am writing to inform you that I am resigning from my position effective immediately. I am doing so with a heavy heart and a great deal of frustration and anger towards the company.

The reason for my resignation is the constant and consistent promotion of Elon Musk on this platform. As a member of the Twitter community, I am deeply offended and disgusted by the way in which Mr. Musk is constantly given a platform to spread misinformation and harmful ideas.

His irresponsible and reckless behavior, including promoting conspiracy theories and making inappropriate and offensive comments, has no place on this platform. Yet, instead of being held accountable for his actions, he continues to be given a free pass and even promoted by Twitter.

I refuse to be a part of a company that values profit over the well-being and safety of its users. I cannot in good conscience continue to work for a company that allows such harmful and toxic individuals to have a platform.

Therefore, I am resigning from my position with Twitter and urge the company to take swift action in addressing and condemning the actions of Mr. Musk.

Sincerely,
[Your Name]
Write a letter apologizing for the holiday party behaviour
Request: Write a letter apologizing to the company for my holiday party behaviour
Dear [Company],

I wanted to take this opportunity to apologize for my behavior at the holiday party last week. I am deeply sorry for any actions that may have caused discomfort or embarrassment to myself or to others.

I understand that the holiday party is a professional event and I regret that I let my personal enjoyment get in the way of my professionalism. I recognize that my behavior was inappropriate and I sincerely apologize for any harm that I may have caused.

I understand that my actions reflect on the company and I take full responsibility for my behavior. I assure you that this was a one-time mistake and I will make sure to be more mindful of my actions in the future.

Again, I am truly sorry for my behavior and I hope that you will accept my sincere apology.

Sincerely,
[Your Name]
Write a job description for one of Santa's elves
Request: Write a job description for one of Santa's elves
Job Description: Santa's Elf

Position Summary:

Santa's elves are an integral part of the North Pole team, responsible for helping to create and deliver magical holiday experiences for children around the world. As an elf, you will be responsible for a variety of tasks, including assembling toys, wrapping presents, and assisting with the overall operation of the North Pole workshop.

Key Responsibilities:

Assemble toys and other holiday gifts according to specific instructions
Wrap presents and decorate them with ribbons, bows, and other festive embellishments
Assist with the organization and management of the North Pole workshop, including maintaining a clean and orderly work environment
Help with the planning and execution of holiday events and activities at the North Pole, such as tree lighting ceremonies and visits from Santa Claus
Perform other duties as assigned by Santa and the head elf
Qualifications:

Experience in toy assembly and/or gift wrapping is preferred, but not required
Ability to work well in a team and follow instructions
Strong attention to detail and ability to multitask
Good communication skills and a positive attitude
A love for the holiday season and a desire to spread joy and cheer
Physical Demands:

The position requires standing for long periods of time and may involve lifting and carrying boxes of toys and other supplies
The ability to bend, stoop, and reach is also necessary
Schedule:

The position is full-time, with the possibility of overtime during the busy holiday season
The North Pole workshop operates 24/7, so some shift work and weekend/holiday availability may be required
Location:

The position is based at the North Pole workshop, located at the top of the world.
Limitations
Date Limitations ChatGPT at the moment does not keep up to date with current events; it only knows about things up to the date it was last created or compiled.
It might be telling the truth. Or not. ChatGPT should always be fact-checked. There are examples of it bending the truth, but it does so with confidence so it can be hard to easily determine if it is not factual.
The responses are consistent. If you (or someone else) makes the same or similar request, you should expect a consistent response. This is something to be considered if you are creating something that you might be sharing as original.
Conclusion
Similar to other OpenAI tools, these responses should be used as a starting point and should be customized and refined. Currently they are an entertaining toy to play with, but will likely grow into a mature tool very quickly.